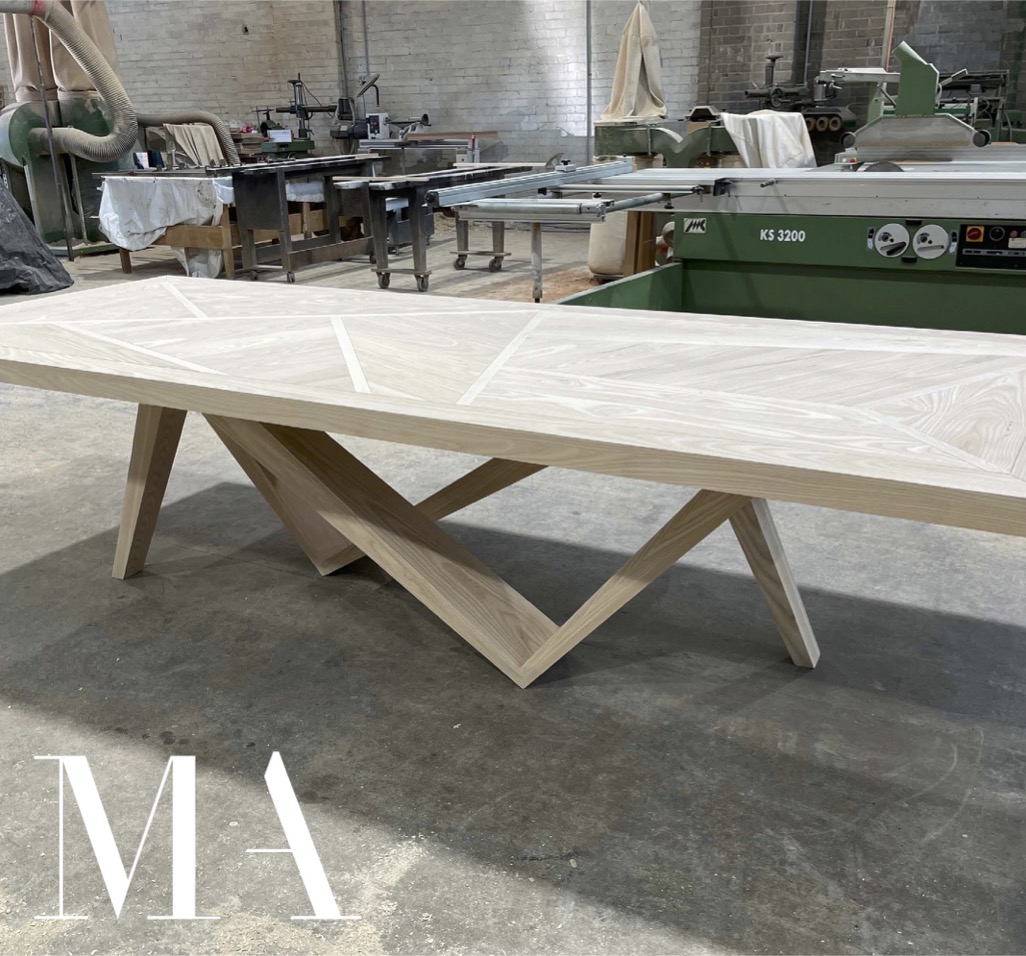 Large Tables for Any Space – June 22nd 2021
Mark Alexander Design showcases real and meticulously sketched, planned and produced deigns that are all hand crafted to suit the client and their home. No 3D renders are used within our luxury interiors or bespoke furniture, each design is authentic.
Furniture Art Australian Designed and Made – June 10th 2021
Mark Alexander works with a range of different styles from Classic, Contemporary and even the Modern Hamptons look. The Hamptons style has been popular for many years now, taking inspiration from this style Mark is able to adapt key aspect to suit his client's and their unique homes. Capturing the more refined Modern Hamptons look and bringing this into his own luxury interiors and bespoke furniture designs.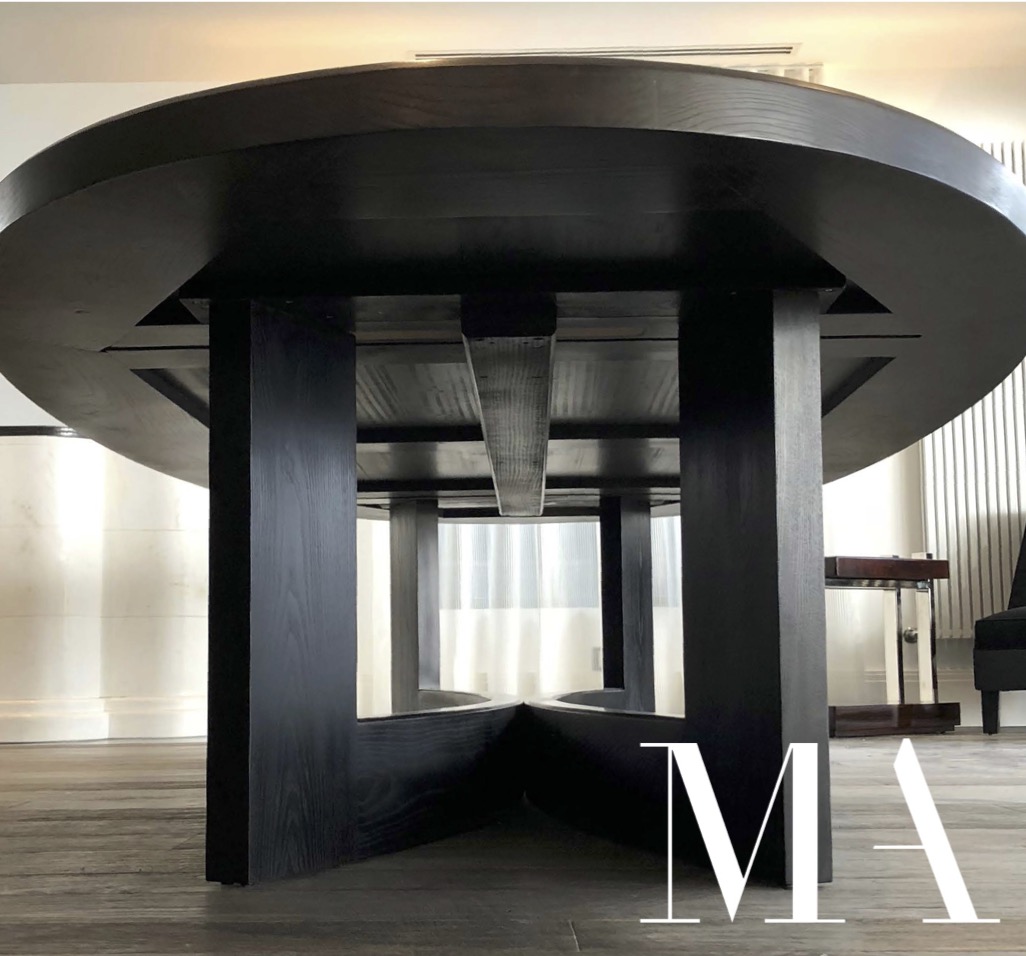 Australian Made Tables – June 1st 2021
A leading Australian made interior and furniture designer, Mark Alexander exclusively sketches, manufacturers and produces stunning bespoke pieces to suit you, your style and your home.
Representing uncompromising quality and attention to every detail, our custom dining tables combine enduring style and design with strength and durability, to deliver beautiful and functional pieces that will stand the test of time.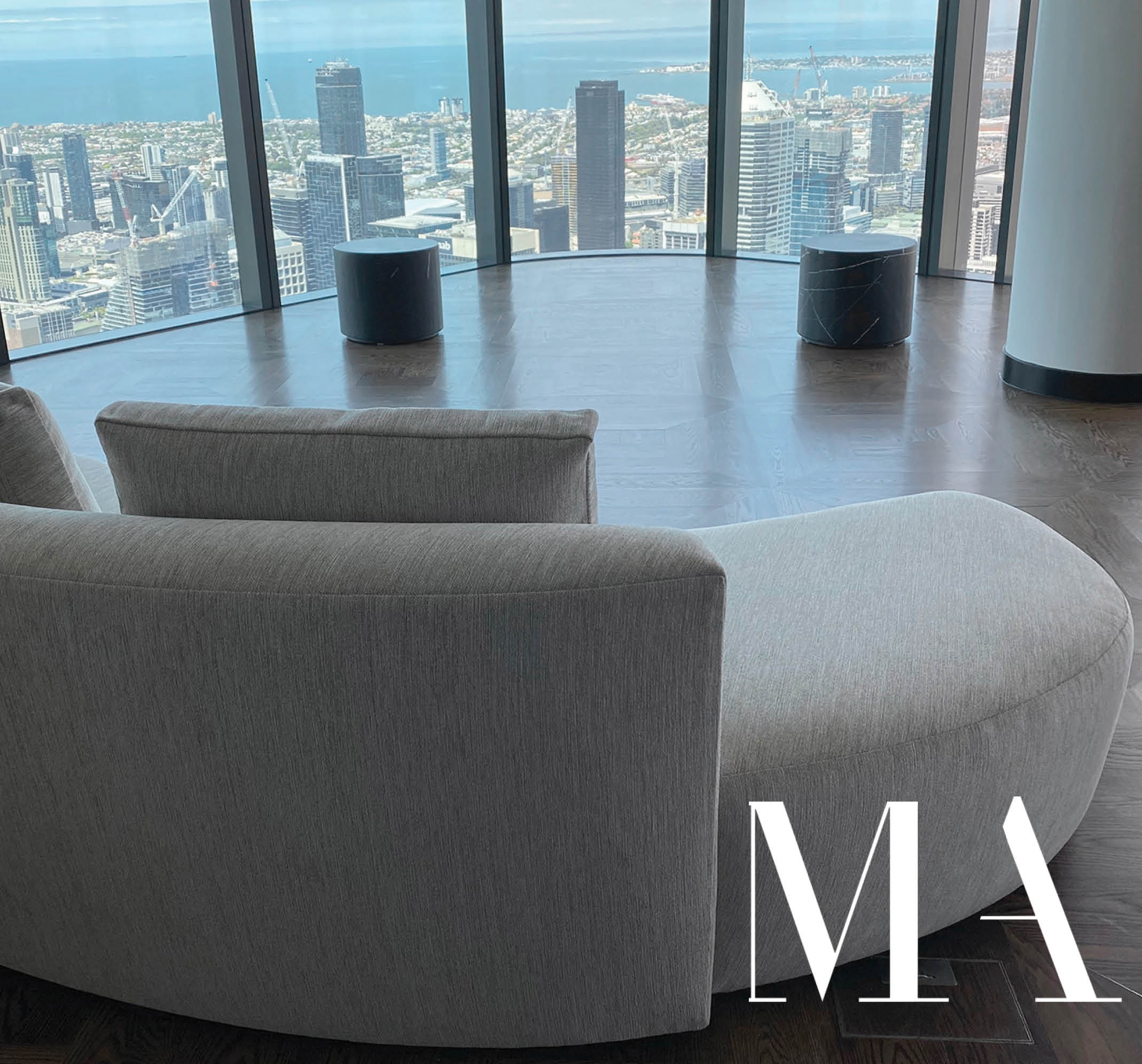 Australian Made Sofas – May 25th 2021
More than the perfect design, finishing and quality, you can rely on Mark Alexander to ensure that your Australian made sofa is a perfect fit for you and your home. Mark's eye for detail, hand sketches and master craftsman ensure that the most luxurious and comfortable results are achieved each and every time.
Hand Crafted Dining – May 19th 2021
Stunning custom designed and Australian made premium furniture pieces. Each one personally sketched, planned and produced to suit the client, their home and any unique requirements. Hand crafted by the most skilled artisans for an uncompromising result and premium standard.
Curved Sofas & Chaise Lounges – May 4th 2021
Custom designed sofas, Australian made for strength and opti- mal comfort, upholstered in a wide range of luxurious fabrics with co-ordinating scatter cushions available to complete the perfect look. A range of unique shapes and curved designs can be achieved through our meticulous planning and design process to suit even the trickiest of spaces.
Spanish Deco Table Design – April 28th 2021
Custom designed and expertly made dining tables, each made to order to suit you and your home perfectly. A range of different styles, designs and finishes are available for your unique requirements. All sketched, planned and hand crafted in Australia using traditional techniques.
Creating The Magic – April 28th 2021
MA inspired by Walt Disney – Hand Sketching Techniques
In the words of Walt Disney
"They can copy but they can't produce the Magic"
Luxury Furniture Design – April 20th 2021
Custom designed and made Australian furniture art, each piece individual to you and your home. Create a luxurious intimacy within your interior while providing the perfect area to fit your family and their lifestyle, all custom made for you.
Contemporary Modern – March 30th 2021
Simply breathtaking Contemporary Modern interiors, with influences of Classic, Art Deco and signature styles to masterfully highlight a client's unique personality and interior. With quality, custom designed and made feature furniture pieces adding a sense of Grandeur to Mark's interior design schemes.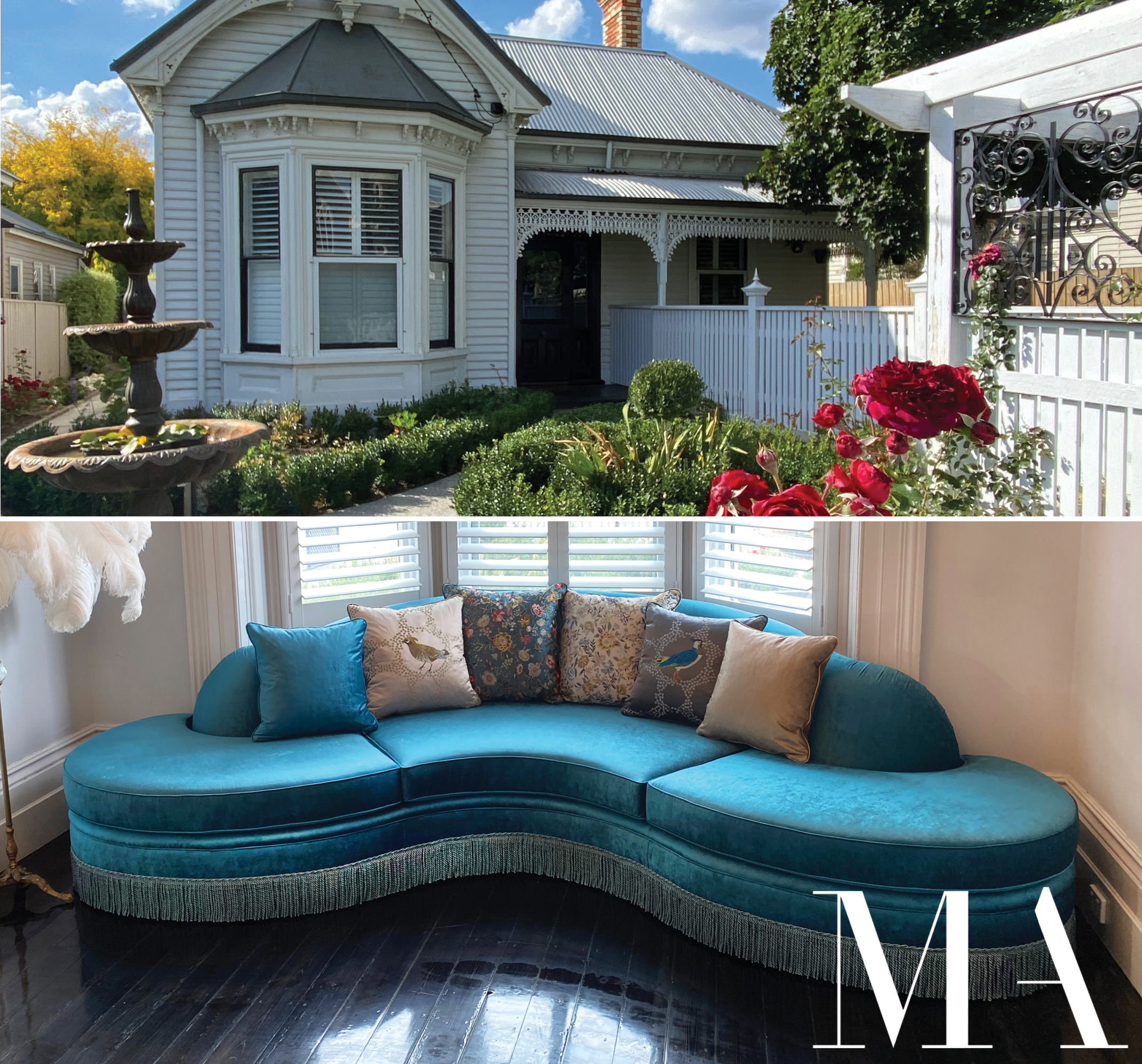 Australian Furniture Art – March 16th 2021
Mark Alexander is not only a gifted designer but has been manufacturing quality furniture for over 35 years. It's this deep knowledge and background that makes Mark stand out from other designers. At Mark Alexander Design we don't just select and source items and hope they'll work in your home, we custom design and produce your own unique furniture items that are made to suit you and your home perfectly.
Mastering Classic Design – March 2nd 2021
Mark Alexander, a master of not only stunning Contemporary furniture designs but beautiful Classic pieces as well. If you can master the Classic furniture designs then you can master the Contemporary. Mark even has the ability to blend Classic and Contemporary together in a balanced and sophisticated design to suit the unique requirements of his clientele.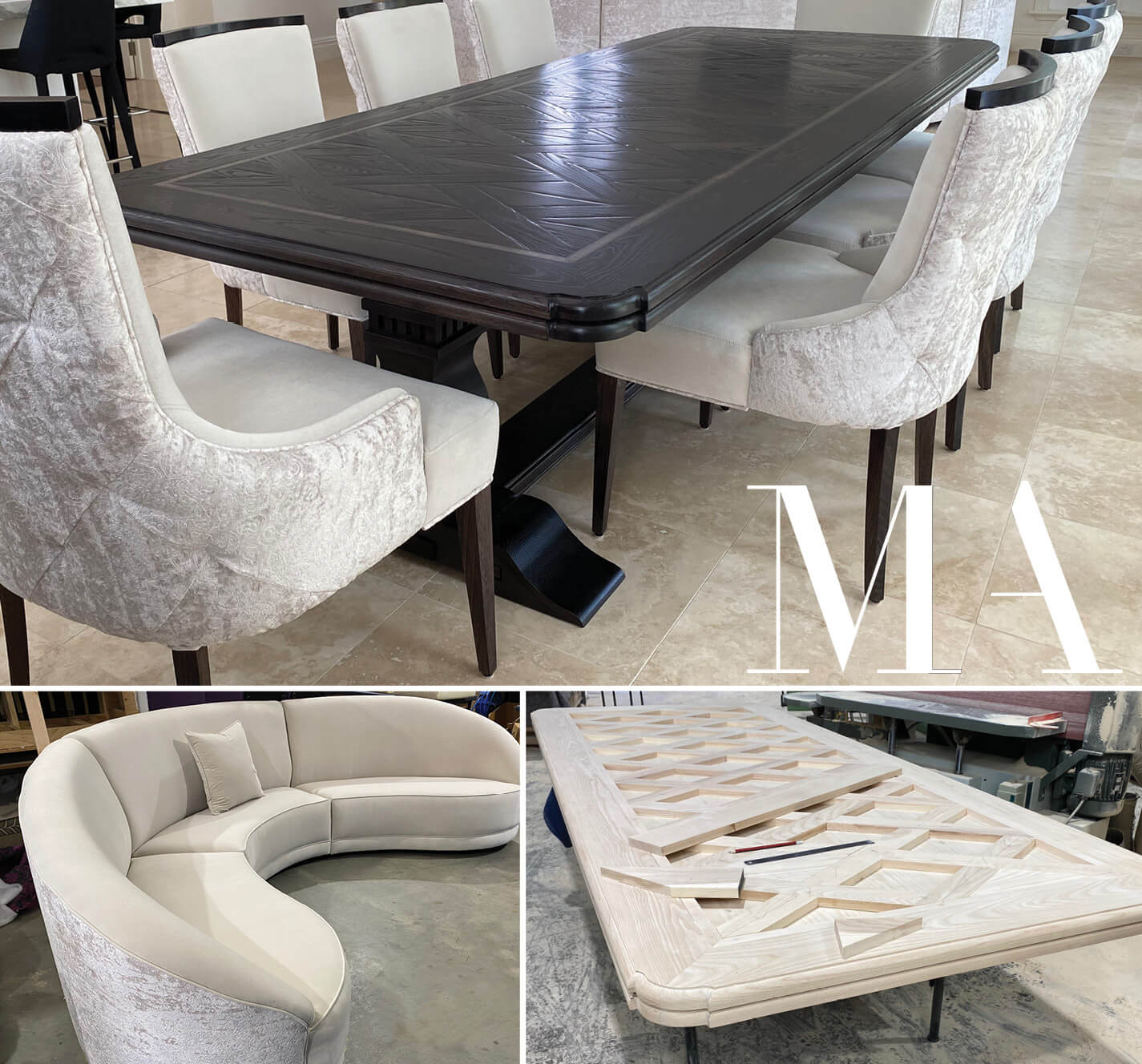 Georgian Inspired Design – February 16th 2021
A stunning Georgian style home is the perfect inspiration for Mark to create simply gorgeous custom furniture. Each piece has been directly inspired by the existing architectural details and features of the home, creating a breathtaking and unique interior.
Cosmopolitan Penthouse – February 9th 2021
A luxurious classic European design with French and Italian influence. Opulent patterned and textured wallpapers with luxe fabrics add drama and theatricality. This gorgeous entrance space was personally designed for the client and creates a truly breathtaking visual for any guest.
Luxury Office Furniture – February 2nd 2021
An executive office with masculine influence. Featuring richly detailed furniture with spectacular Rosewood and Mahogany veneers combined with marquetry inlays for a distinguished appeal. The office emulates a classic stylish design which showcases heritage and stature.
Welcome Back – January 21st 2021
Beautiful and sophisticated interior and bespoke furniture designs by renowned designer Mark Alexander. Each space meticulously planned from hand sketch to completion to achieve balanced and thought out interior design schemes.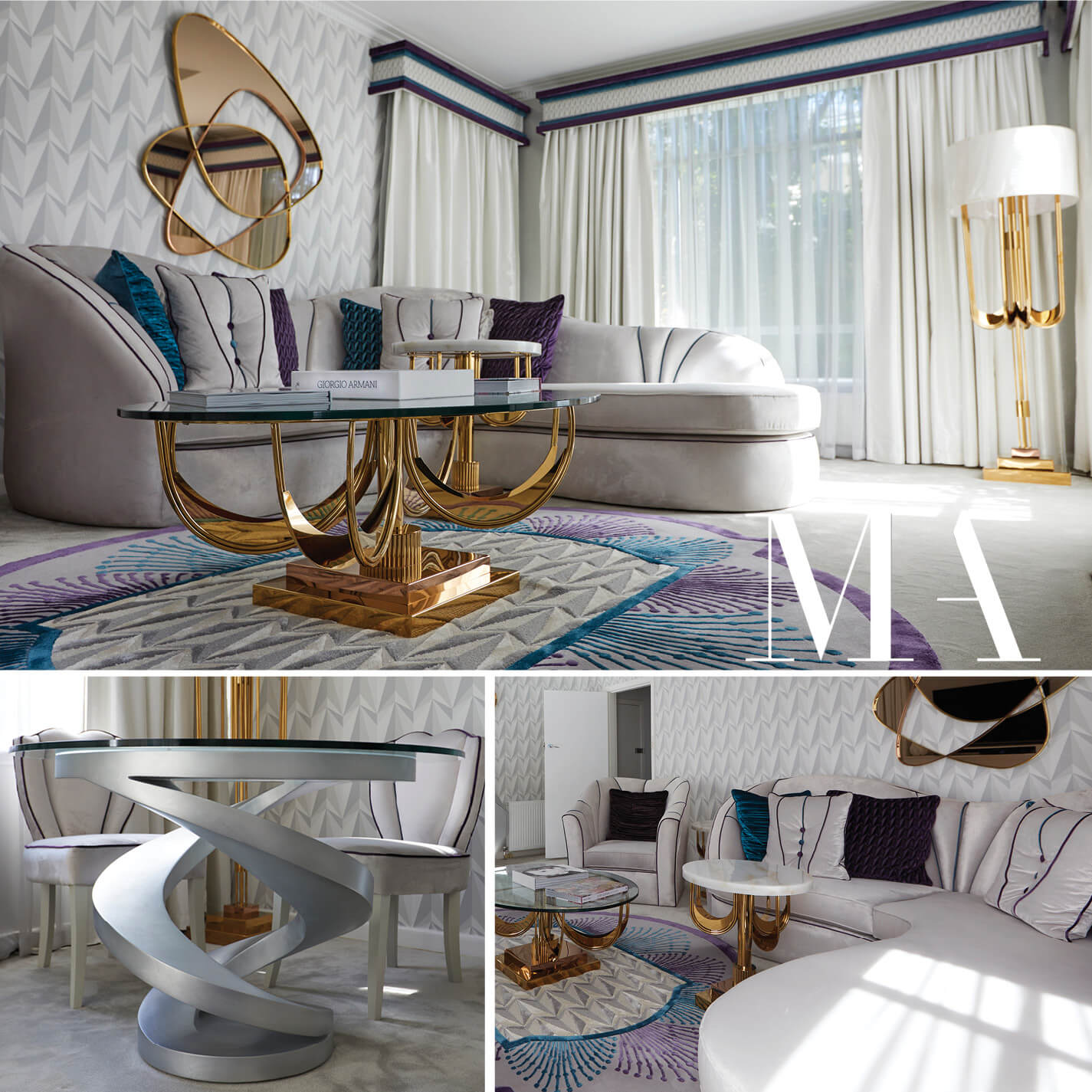 Opulent Custom Living – December 15th 2020
Every interior by Mark Alexander Design Artistry is an original, multilayered work of art. Inspired but not bound by the latest trends and feature beautiful custom-made furniture of the highest quality to create inspiring and captivating rooms in a range of classic and contemporary styles, to suit you and your unique requirements.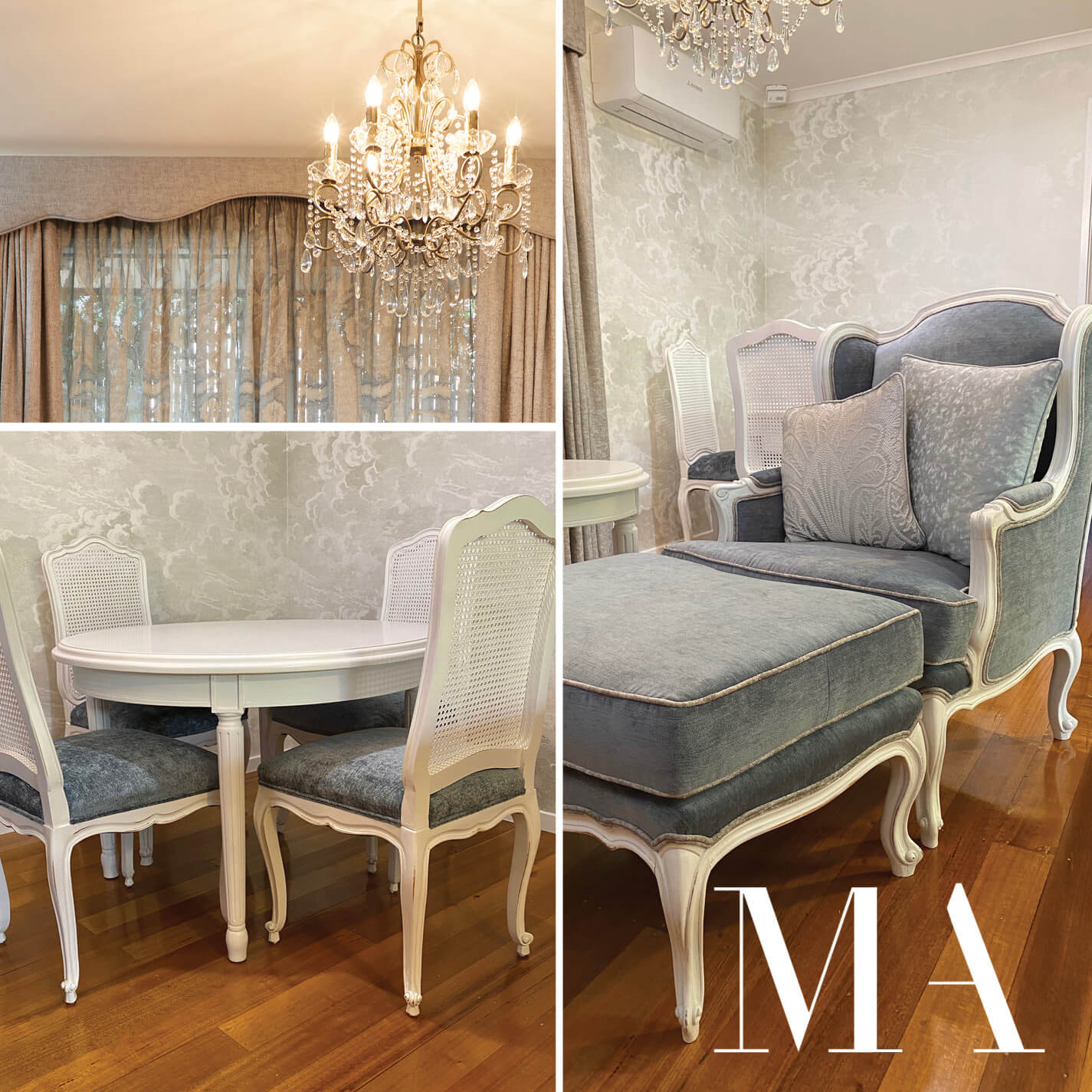 Complete Interior Design – December 8th 2020
An interior from Mark Alexander is an artistic pursuit, created in close collaboration with each client to completely understand their vision, this particular client wanted a warm French elegance added to her home. Every element was exclusively designed to meet the client's individual needs and expectations and close attention was paid to every intricate detail.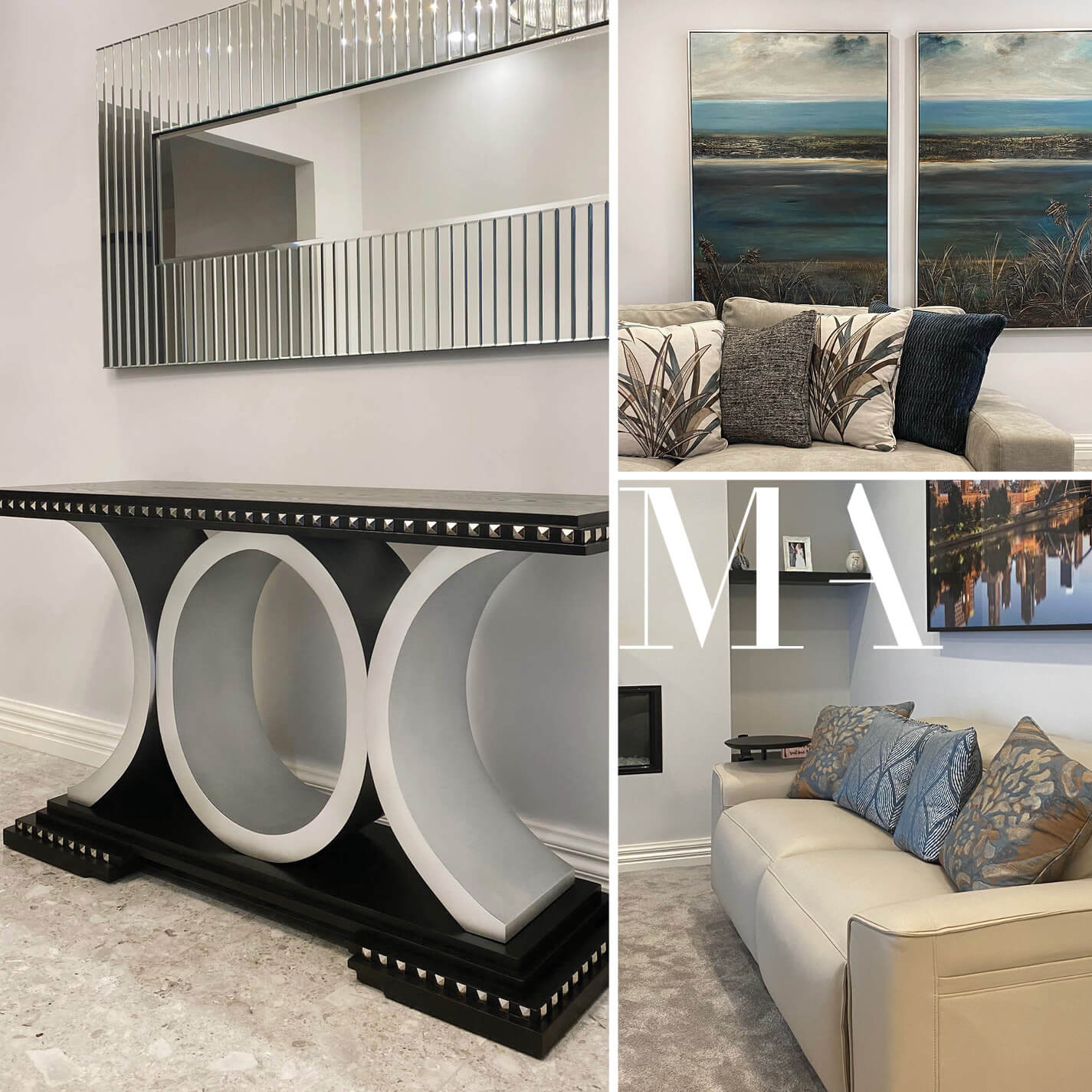 Interior Finishes – December 1st 2020
Interior design is a personal statement and reflection of the self, that requires finding the right inspiration, character, ambiance and mood while also meeting functional and environmental factors. It is a delicate art requiring attention to detail, a discerning eye and creative passion.
Pennant Hills Residence – November 17th 2020
Georgian style residence showcasing extraordinary custom furniture and interior scheme. Timelessly classic furniture designs presented in superbly rich walnut frame of Italian and French influence.
How To Design Interiors – November 3rd 2020
Mark Alexander is constantly asked how he designs such creative, personal and luxurious interior and furniture pieces that suit the home and the client so well. Each individual interior and furniture piece by Mark Alexander Design is specifically designed to suit the client and their home perfectly.
Modern Art Deco – October 27th 2020
Show stopping design creating a commanding presence and statement. A Contemporary Modern masterpiece with Art Deco influences showcased throughout the feature bespoke room furnishings and finishes.
Rose Bay Residence – October 20th 2020
A warm and inviting home with English character and warmth. The family area and adjoining living room have a sense of personal luxury through the custom designed furniture and use of layered fabrics and textures.
Curved Sofas Manufactured in Australia – October 13th 2020
Mark Alexander's furniture and manufacturing background gives him the flexibility to change and adapt every sofa design to suit the client, their home and their lifestyle. Every single sofa is unique and tailored personally to suit with custom dimensions, seat heights, seat depths and more to achieve perfection.
Manufacturing Designer – October 6th 2020
Mark Alexander is not only a skilled interior designer but possesses a deep knowledge and background in furniture design. Now is the perfect time to improve your home and interior spaces with custom made, quality Australian furniture designs.
Bespoke Curved Segmented Sofa – September 29th 2020
Mark from Mark Alexander Design details the process and planning that goes into each of our Australian made sofas, focusing on a luxury curved sofa we recently completed for a client in Sydney.
The Designer Insight Video Series – September 10th – 22nd 2020
Over the course of four videos Mark Alexander has shared his perspective and insights into the design industry in recent years, below you will find these four videos as a part of Mark's Designer Insight Video Series. This series focuses on Marks thoughts, wealth of knowledge and manufacturing history from over 30 years of designing luxury interiors and luxury furniture pieces for clients around Australia and internationally.
Bed Heads & Panels – September 8th 2020
The ultimate in luxury and design, our bed heads, bed panels, wall panels and beds are superbly custom made to your exact requirements. Bespoke dimensions
are made to order to suit King or Queen size mattresses.
Entrance Consoles – September 1st 2020
Custom designed and made entrance consoles and tables. Fully tailored to your unique requirements in terms of dimensions, finish and colour. Design the perfect custom made console for your entry way, foyer or office space with Mark Alexander, anything is possible.
Curved Sofas Australian Made – August 18th 2020
Our designer curved sofas and modulars are individually designed and made in Australia, tailored for shape and configuration to suit room size and orientation. Custom designed for you and built with solid frames and premium cushioning for strength and optimal comfort.
Australian Manufacturing Designer – August 11th 2020
Mark Alexander Design is available now to assist with any interior and
furniture design enquiries. Now is an incredible time to improve your home and interior spaces with premium quality Australian made furniture designs.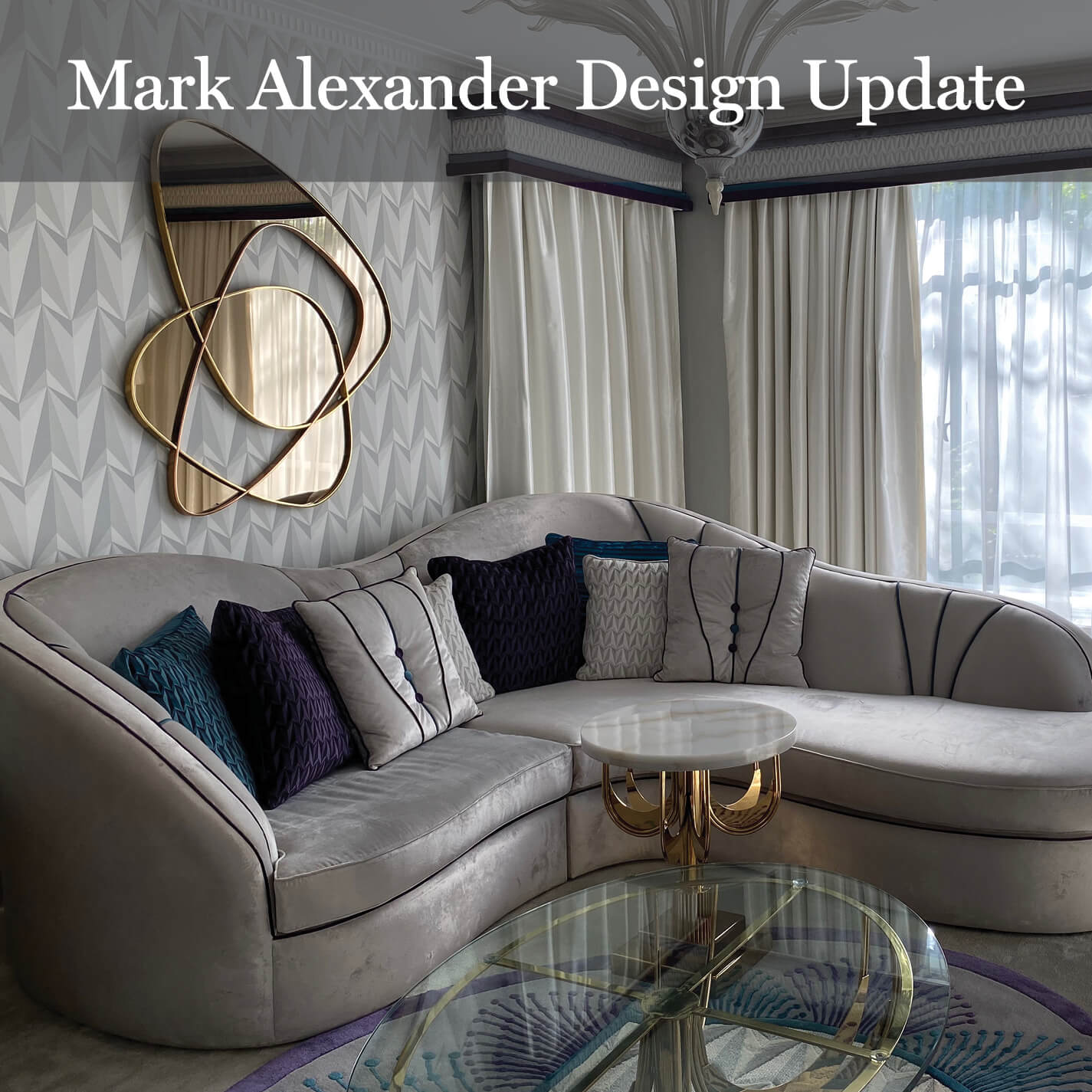 Design Update – August 5th 2020
We are still operating and continuing with our design artistry and manufacturing throughout current stage four Melbourne restrictions.
Mark and the design team will continue to work remotely from our regional Victoria location, assisting clients throughout Victoria, across Australia and Internationally with new and existing design work and manufacturing.
For new orders and interiors to be completed, we will be continuing our normal design processes and planning from our office location. Now is a great time to work personally with Mark on your home interior design or in designing a special piece of luxury furniture. Start thinking about new work, including lounges and tables that you may require prior to Christmas.
We are available to assist you in any way as it's work as normal via phone, email or video call. Share your property plans and photos and allow us to show you design possibilities with a personalised video or hand sketched concept from Mark. Mark has the ability to design houses remotely for projects Australia wide and has done so for many years. If absolutely necessary, home consultations can be arranged if Mark deems it needs to be done to get the best result.
Woollahra Manor – July 28th 2020
Luxurious interior and library fit-out for a celebrity client in an exclusive Sydney locale. The library and formal living and dining area within this home's refined Italianate architecture displays a relaxed, characterful French style with influence from warm Scandinavian colours.
Moonee Ponds Penthouse – July 21st 2020
A Modern masterpiece with touches of Art Deco elegance. This gorgeous penthouse features stunning architecture and features which inspired Mark to create truly unique statement furniture pieces and interior finishes for this client.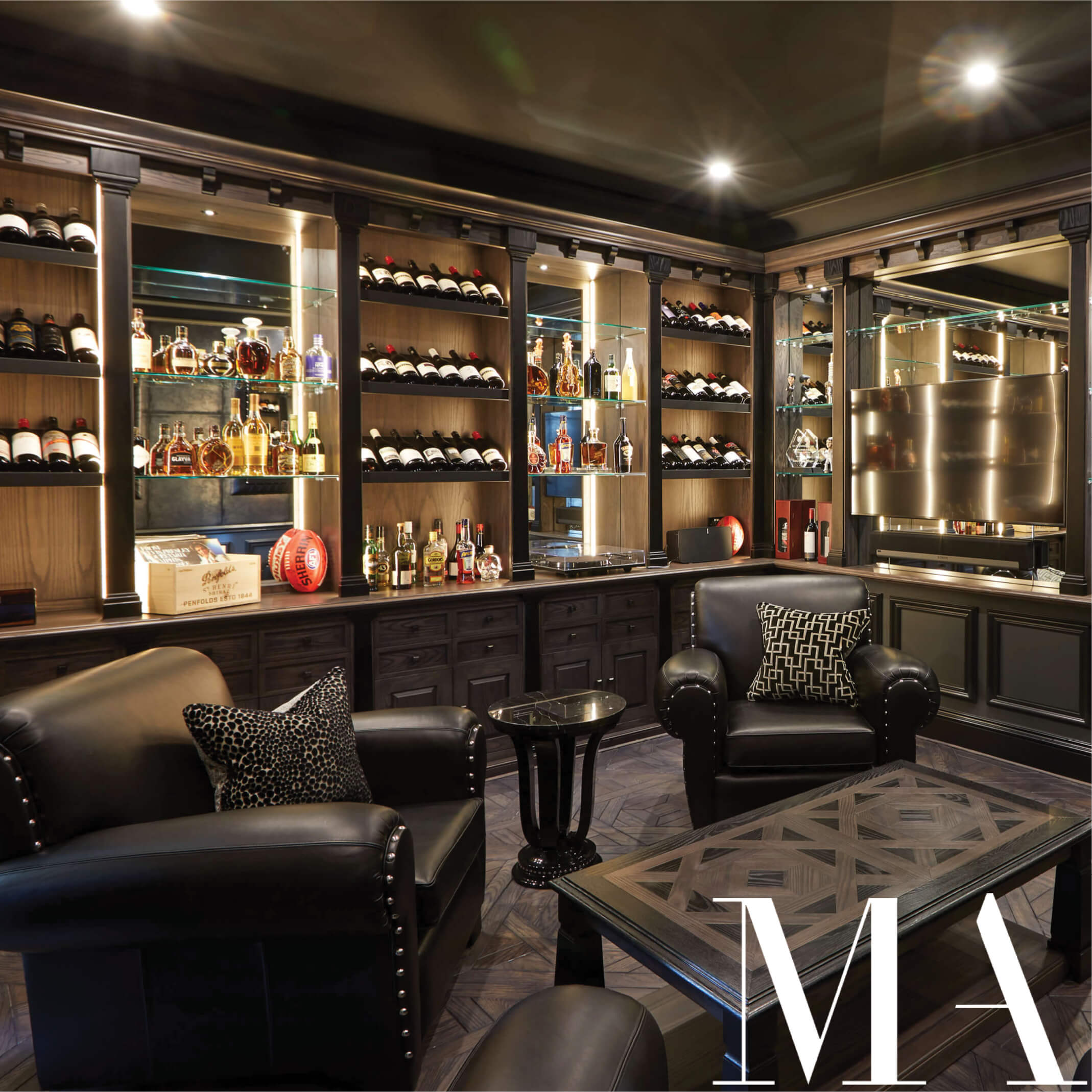 Wine Bar Canterbury – July 14th 2020
Sumptuous decadence for any wine connoisseur, this artful design by Mark Alexander combines our client's appreciation of fine wines, sound and entertainment and cohesively balances them into this breathtaking room.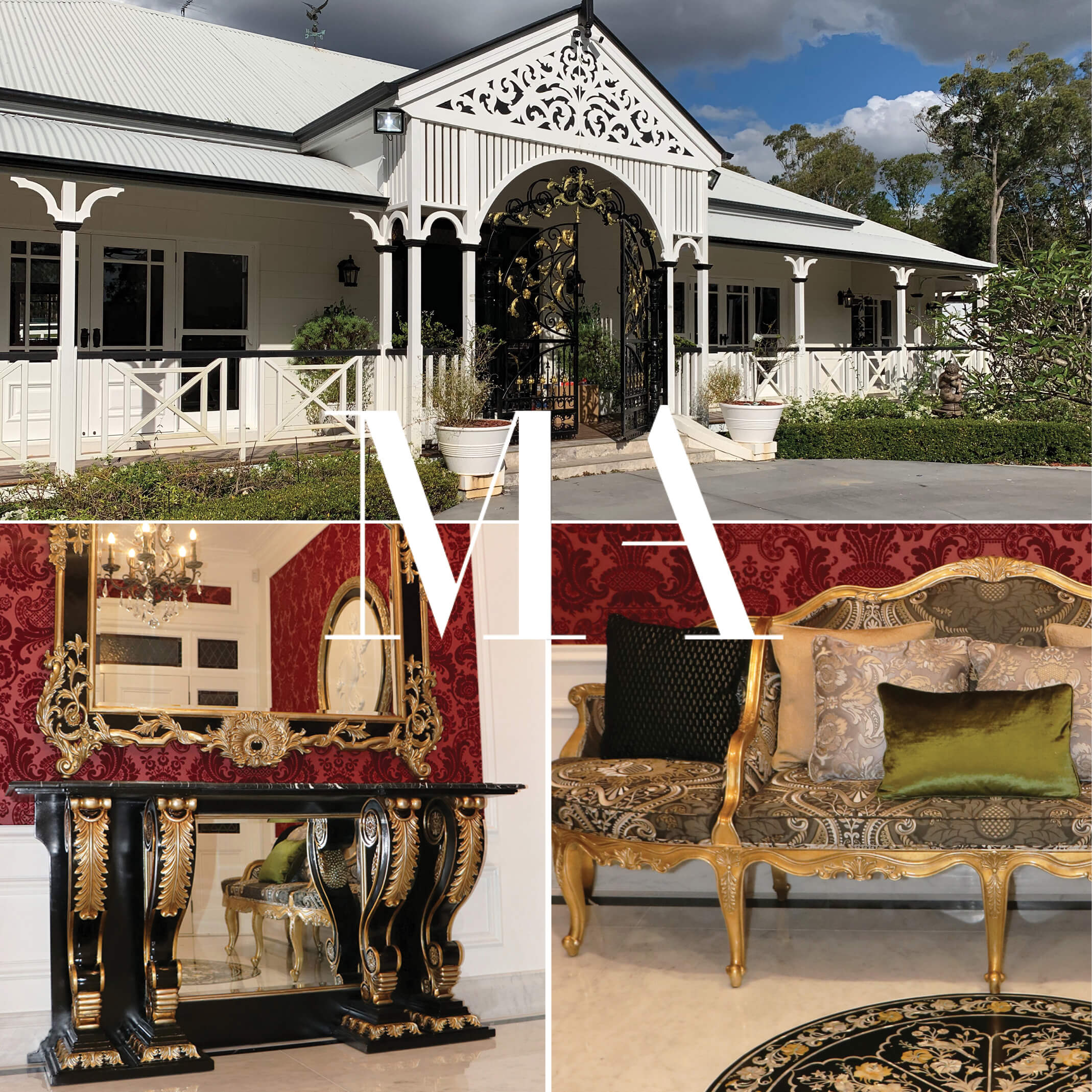 Bold Brisbane Living – July 7th 2020
A beautiful and Classic interior design, inspired by the clients love of detail and regal elegance of the Chateau de Versailles palace. Mark Alexander has meticulously planned and balanced all of the luxurious furnishings, from the stunning wallpaper and wall paneling to the feature marble inlay with mother of pearl details.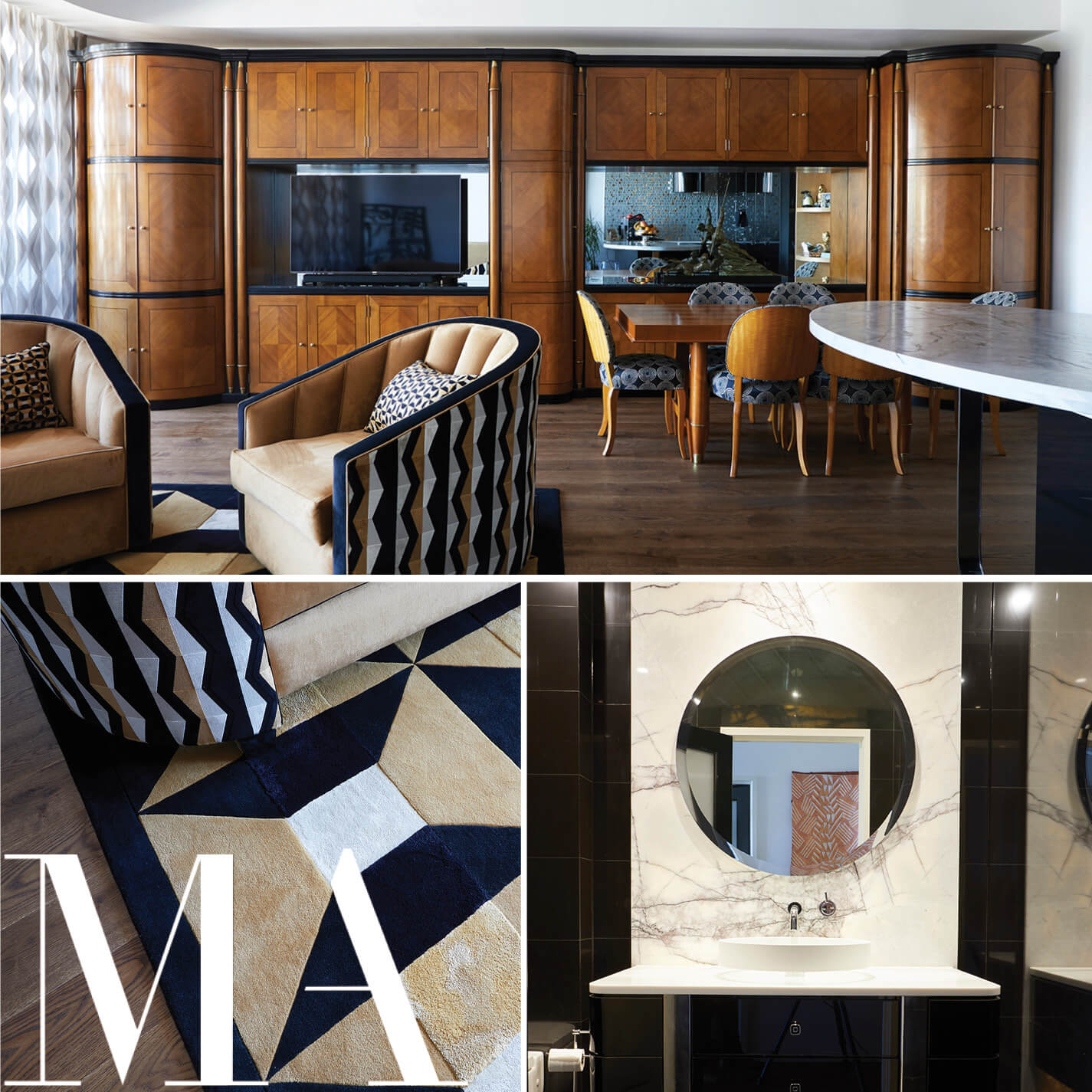 Melbourne Riverview – June 30th 2020
A gorgeous and show stopping interior design, creating a commanding presence and statement in this Melbourne Apartment. An Art Deco masterpiece with lovely Contemporary influences throughout the bespoke room furnishings and finishes.
Classic Bedroom Suite – June 23rd 2020
Stunning Classic European design with beautiful soft elegance. This luxurious bedroom suite harmoniously brings together a contrasting black and white theme with soft feminine qualities through-out. The champagne gold and glitter finishes create true luxury in the space while the contrasting wallpaper bring in a rich interior feel.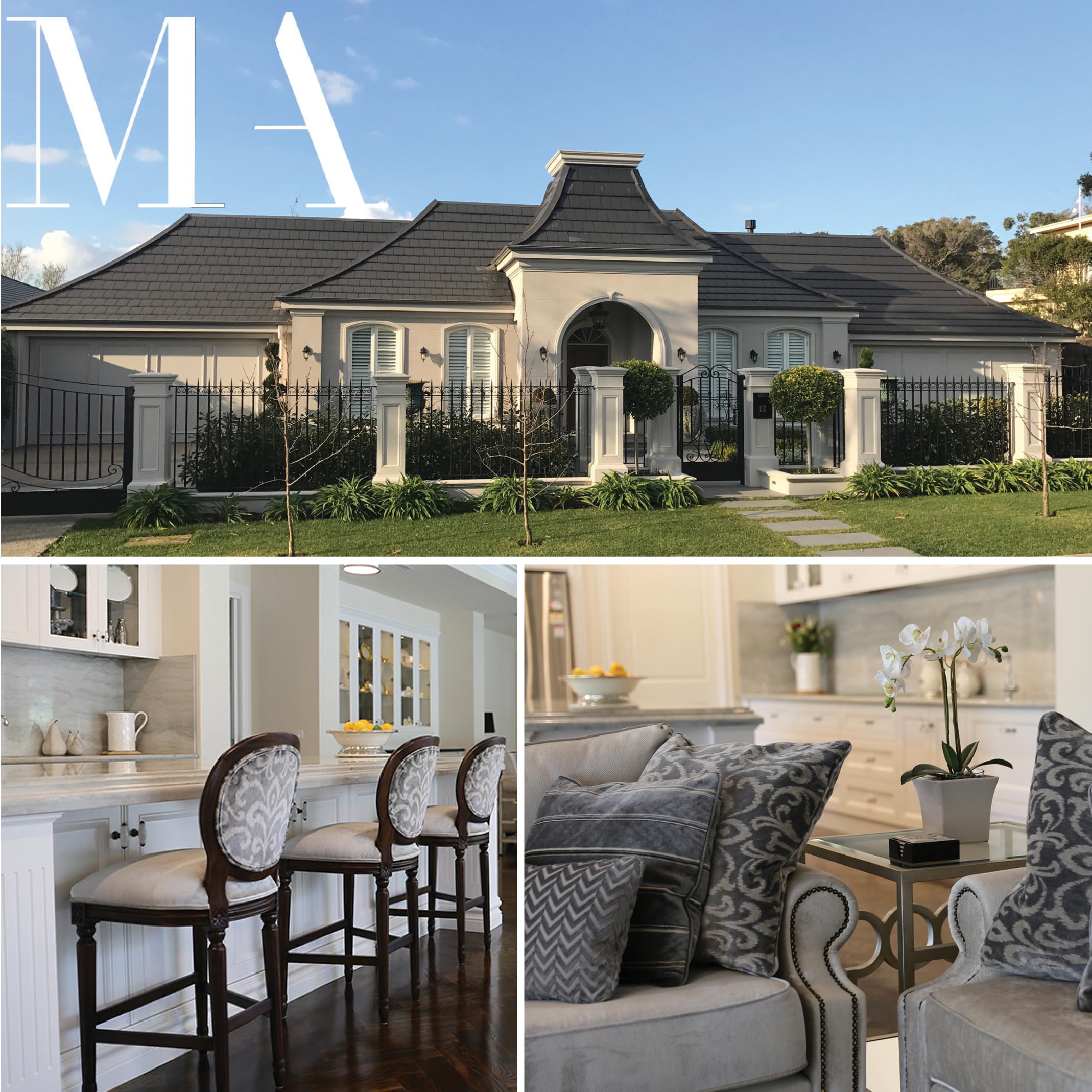 Mt Eliza Villa – June 16th 2020
A French style home with contemporary elegance in a comfortable and liveable open plan space. Brought to life with bespoke furniture pieces individually tailored in elegant palettes.
Designer Sofas – June 9th 2020
All of the designer lounges and sofas by Mark Alexander Design Artistry are individually custom made to order, using premium materials including luxurious fabrics from Australian and International brands and the finest quality upholstery, foams and cushioning for long-lasting and supreme comfort.
Parquetry Dining Tables – June 4th 2020
Mark Alexander Design Artistry has a specialized luxury furniture site known as French Tables. Every piece of French Tables furniture including our custom made Parquetry dining tables are completely original and grand works of art. Combining superior workmanship and exquisite finishes with durability, to produce beautiful and functional pieces that will be enjoyed and appreciated for generations.
When You Newsletter – June 2nd 2020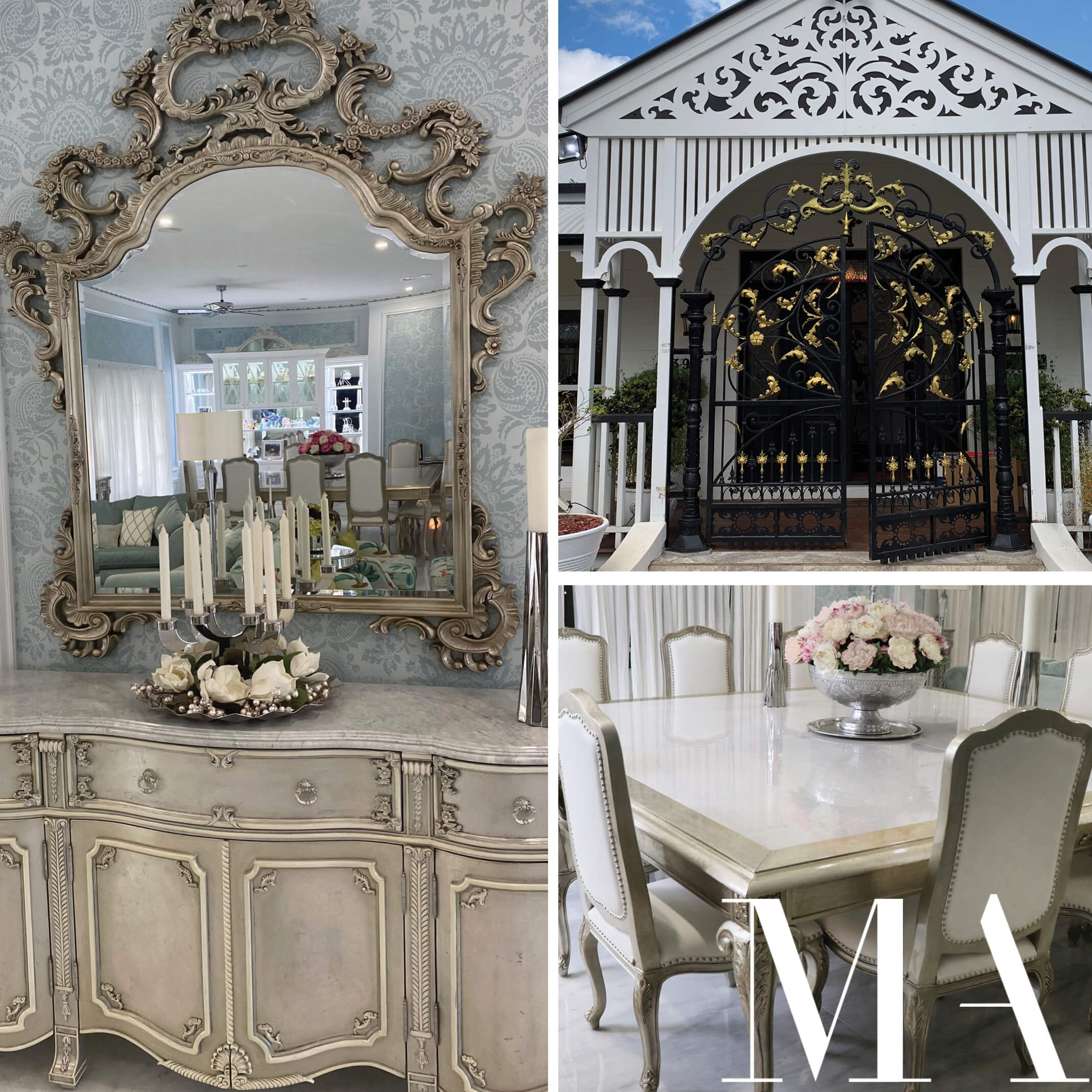 Piece of French Versailles in Brisbane – May 26th 2020
A celebration of this client's love for details and regal elegance is showcased within this sublime Classical interior in Brisbane. Featuring gorgeous hand carvings, rich flocked wallpaper and solid marble features which have all been inspired by the grand luxury of the Chateau de Versailles palace.
Bookcase & Desk – May 19th 2020
Here it is, explore the design and manufacturing process of this grand Hamptons style bookcase and desk from initial sketch all the way through to the delivery of this stunning piece into the home. Mark is not only a designer but a manufacturing designer as well and this project highlights his unique skills perfectly.
Toorak Gardens Adelaide – May 12th 2020
Quality and style throughout this grand 1900's Victorian Queen Anne Villa
in Adelaide. Transformed into a beautiful and practical family home interior
which was awarded best interior and renovation over one million dollars.
Penthouse Master Suite – May 5th 2020
A luxury bedroom suite with Versace influence. This Melbourne penthouse showcases client's bold sense of style with sophisticated elegance. Bedroom suite designed with classic shapes throughout, all incorporated into the bespoke furniture items – this room is a certainly a statement suite.
Apartment Living – April 28th 2020
A luxurious apartment interior featuring high-end designs and finishes in a champagne and ivory white palette. Exuding luxury and grandeur, this contemporary modern apartment features bespoke furniture items in specialised finishes of ebony and hand forged metal-work in champagne gild.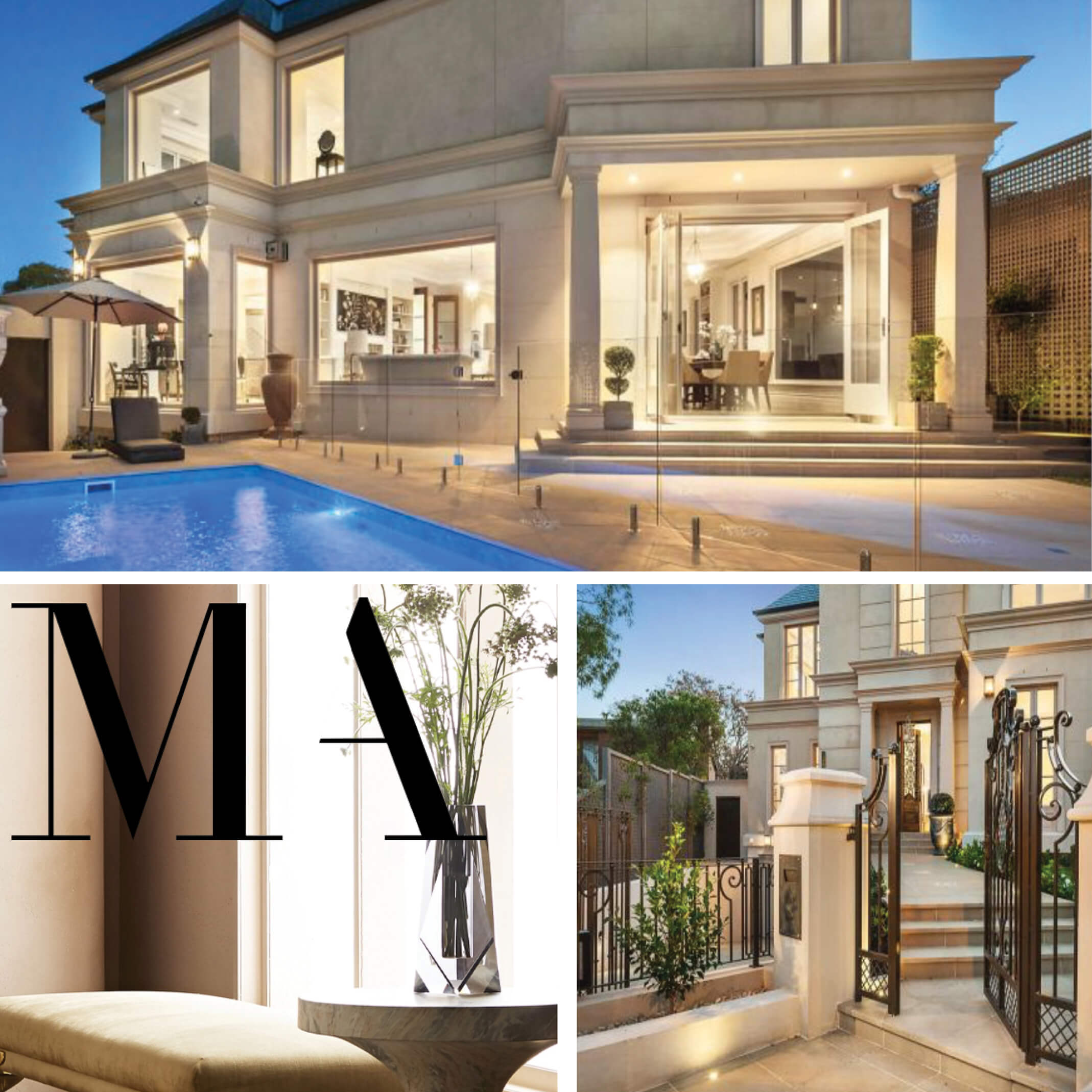 Accessories & Layering – April 22nd 2020

Create a workspace within your own home that is not only luxurious but also comfortable and refined. Mark Alexander produces premium custom-made desks, chairs and bespoke bookcases. Each office interior is personally planned alongside the client to ensure their dream is crafted into a truly spectacular design.
Home Office & Libraries – April 14th 2020

Mark Alexander Design provides a personal and collaborative process, where each detail is thoughtfully planned and considered. Upon completing bespoke furniture, floor rugs, curtains and wallpaper, we often have many clients return to us to finish off their interiors by adding layering elements and accessories. Creating a beautiful depth of character and finished home interior.
Bold Formal Living – April 7th 2020

An inviting formal living with drama and refinement in a contemporary Art Deco Style. This Melbourne residence in a prestigious locale showcases bold, sweeping shapes with an interestingly tailored palette true to the Art Deco Style, yet with modern influence..
Bayside Luxury – March 31st 2020

Gorgeous custom designed and made living interiors, exclusively sketched, planned and produced by Mark Alexander down to the most intricate details. The magnificent dining space with custom designed floor to ceiling wall units captures true elegance, enhancing the beautiful beach front views.
Design Update – March 24th 2020

We wish to inform our customers that it is business as usual here at Mark Alexander Design.
We are monitoring the current COVID-19 status and have taken necessary steps to ensure the safety and welfare of all clients, staff and the broader community by carefully following all Australian Government Department of health advice.
Mermaid Waters Interior Concept – March 24th 2020

Every interior by Mark Alexander Design Artistry is an original, multi-layered work of art. Inspired but not bound by the latest trends and feature beautiful custommade furniture of the highest quality to create inspiring and captivating rooms in a range of styles. Shown here is a Modern Contemporary interior concept for a beautiful Queensland property in Mermaid Waters.
Mark's Message – March 19th 2020

Mark Alexander's message regarding Australian Furniture manufacturing and local interior design services, considering the nature of COVID-19 in Australia.
Classic European – March 17th 2020

Break the rules and remove all limitations to create a unique fusion of classic European styles, drawing from Italian, Rococo, French and Roman Empire, to create a truly glamorous and timeless interior.
Balwyn Manor – March 11th 2020

A refined elegance showcased through this Contemporary Georgian home. Beautifully detailed feature furniture pieces in a colour palette drawn from rich turquoise and layered champagnes and creams. Designed for a Contemporary lifestyle these formal interiors provide touches of classic appeal and liveable comfort.
Art Deco Luxury – March 3rd 2020

A contemporary Art Deco, Neo classicism design with elegance and colour. Celebrating the vibrancy of the Art Deco era and creating various atmospheres and spaces within this private residence. The interiors showcase a decadent selection of rich velvets, textured wallpapers and impressive bespoke timber furniture, creating drama and warmth whist providing this home with a unique personality and sense of Art Deco luxury.
Refined Toorak Living – February 25th 2020

Refined Toorak Living. Contemporary sophistication with Art Deco & Neo Classic influence. This Melbourne residence showcases classic shapes with contemporary and modern refinement, with a focus on comfortable everyday living. Fresh, fun and functional –this home truly is an inspiring space to live.
Bespoke Office Interiors – February 18th 2020

Bespoke Office Interiors. Create a workspace that is sophisticated and comfortable with our custom made desks, chairs and unique designs. All of our office interiors are thoughtfully planned to your personal requirements in both a personal home setting or corporate space. Any spectacular design is possible with the guidance of Mark Alexander.
Minimalist Deco – February 11th 2020

Every interior by Mark Alexander Design Artistry is an original, multi-layered work of art. Inspired but not bound by the latest trends and feature beautiful custom made furniture of the highest quality to create inspiring and captivating rooms in a range of classic and contemporary styles, including ever-popular Art Deco interiors and furniture.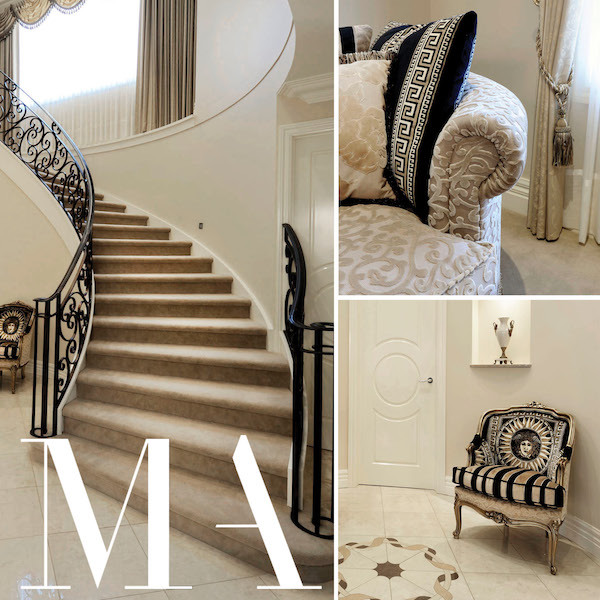 Versace Inspired Artistry – 4th February 2020

Versace Inspired Artistry. Refined elegance is showcased throughout this Contemporary Georgian home. The sumptuous formal living area features statement custom made sofas and French Louis XV chairs. Working alongside clients Mark Alexander designs and crafts exceptional products and interiors that bring homes to life. This stunning Versace inspired space is a true example of Mark's limitless talents to create the extraordinary.
European Master Suite – 28th January 2020

European grandeur with a clear focus on sophisticated luxury and comfort. This elegant bedroom suite sits harmoniously within the interior of this home. Featuring intricate details that exude ultimate luxury.
Melbourne Penthouse – 21st January 2020

A magnificent yet elegant statement penthouse design, completed to the finest details. Mark Alexander custom designed these gorgeous interior spaces to encompass pure relaxation and bring in the refreshing light from the floor to ceiling windows, capturing the stunning Melbourne skyline.
Interior Design Artistry – 10th December 2019

Mark Alexander Design delivers deeply personal and luxurious interior design schemes for every client. With over 30 years of experience, Mark works alongside clients to find the best solution and deliver exceptional products and interiors every time. Every project is deliberately and meticulously imagined, sketched, designed and crafted using Mark's unparalleled sense of style and extensive background in luxury furniture manufacturing.
Victorian Grandeur – 3rd December 2019

Imagine luxurious hand-pressed velvet from France, feature furniture and decor pieces finished in gold gild. All combined with contemporary elements to create an opulent and warm interior. That is what Mark Alexander brought to life in this home, inspired by the regal and ornate European mansions of the Victorian era.
Tranquil Contemporary – November 26th 2019

Tranquil Contemporary Living. Escape the fast-paced city life, with resort-style living and a relaxed contemporary interior that is influenced by nature and Zen philosophy, while embracing luxurious and contemporary elements in natural fibers and soft tones to instantly set your body, mind and spirit at ease. For over 30 years Mark Alexander has been working personally alongside his clients, delivering their dream homes with handcrafted furniture. These homeowners wanted a free and relaxed resort-style space, and that is what has been achieved.
Discover Mark Alexander's Furniture Artistry – November 19th 2019

Furniture Art. This month we are celebrating the release of our new Contemporary furniture collection. Designed personally by Mark Alexander from sketch through to completion. Discover our latest designs and see the process and refinement of these products in a factory setting through our exclusive videos.
Timeless French Elegance – 12th November 2019
Historic French Italianate. Add an elegant touch of French European luxury to your home, with the ambience and grandeur of the Palace of Versailles in mind. The grand yet calming ambience is perfect for entertaining and showcases a high appreciation for the old and new French styles.
Cosmopolitan Contemporary – 7th November 2019
Cosmopolitan Classic Contemporary. Subtle in its sophistication, a contemporary interior offers uncluttered simplicity, featuring clean lines and block colours in black, white and neutrals that are offset by bold, oversized statement pieces and artworks to create a truly chic and comfortable living space.
Contemporary Design – 30th October 2019
Mark Alexander Design produces beautiful, custom made luxury furniture pieces and sublime soft furnishings that are not only functional and durable, but timeless in their design. Creating spaces and homes that exude effortless sophistication with striking wallpapers, rugs and designer fabrics, along with key signature furniture pieces.
Bespoke Contemporary Design – 30th October 2019
New Contemporary. Mark Alexander Design Artistry is continually designing new and original pieces of work that are directly from the mind of the extraordinary Mark Alexander. This range features beautiful angles and lines, creating a sublime depth of character and interest. All fully custom-made to the highest quality in a gorgeous Modern Contemporary style.
Design Artistry – 8th October 2019
Interior Design With Artistry. Mark Alexander is one of Australia's most established interior designers, delivering high- end design services nationwide and internationally. Producing highly personalised, well-considered and luxurious interiors, Mark Alexander puts the need of his clients first and never compromises on workmanship or materials.
French Parquetry – 1st October 2019
Custom Designed Parquetry Tables. Mark Alexander Design Artistry has a dedicated French Tables site which specialises in custom designed and made French Parquetry Tables. Every piece of French Tables furniture is a completely original grand work of art, combining superior workmanship and exquisite finishes with durability, to produce beautiful and functional pieces that will be enjoyed and appreciated for generations to come.
Bookcases & Libraries – 24th September 2019
Custom Designed, Individually Made, Expertly Crafted. Bookcases & Libraries. Any Style, Design and Colour Available. Mark Alexander Design Artistry has a dedicated French Tables site which specialises in custom designed and made French Parquetry Tables. Every piece of French Tables furniture is a completely original grand work of art, combining superior workmanship and exquisite finishes with durability, to produce beautiful and functional pieces that will be enjoyed and appreciated for generations to come.
Bespoke Interior Creations – 25th June 2019
Mark Alexander Design Artistry. Presenting bespoke interior creations. Transforming houses into homes. An exquisite, contemporary full interior by Mark Alexander Design. Taking inspiration from Art Deco influence, combining modern simplicity and functionality. Join us on a detailed journey from hand drawn sketches, imaginings and concepts through to an uncompromising finish, resulting in a stunning family home, exuding unique style, luxury and sophistication. Each element of design through to manufacture is carefully considered, ensuring a flawless, bespoke transformation from imagination to reality.
Sumptuous Decadence – 4th June 2019
Mark Alexander Design Artistry. Introducing our latest creation. Sumptuous decadence for the wine connoisseur. An artful design by Mark Alexander combining our client's appreciation of fine wines, sound and entertainment in a breathtaking room. This retreat was designed as the ultimate escape to luxury, decadence and comfort. Complete with shelving in solid Oak, Italian leather accents, feature lighting and majestic handcut parquetry, this room exudes stunning ambience from floor to ceiling. Created by Mark Alexander's artisan craftsmen, combining premium materials with enduring style. Mark has provided dedication to every detail and taken this space from dream to reality. "The building could fall down, I wouldn't know and it doesn't matter" – Our client immersed in the lavish surroundings of his new room.