A luxury bedroom suite with Versace influence. This Melbourne penthouse showcases client's bold sense of style with sophisticated elegance. Bedroom suite designed with classic shapes throughout, all incorporated into the bespoke furniture items – this room is a certainly a statement suite.
Luxurious Finishes
Gorgeous black and gold finishes with luxurious leather upholstery to the bed head and quality European fabrics. This master bedroom suite has been meticulously designed to radiate luxury and grand opulence.
Sophisticated Comfort
Each unique furniture piece has been meticulously sketched, planned and produced down to the finest detail. This ensures not only a stunning product is crafted but optimal comfort is met as well.
Drapery & Soft Furnishings
Complimenting drapes, wallpaper and soft furnishings finish this beautiful master suite off perfectly. With Contemporary pelmet and drapes in a black and silver luxury fabric, stunning classic damask pattern wallpaper of fine glass beads on a metallic background, finished with stunning throw rugs and cushions.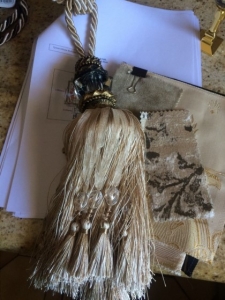 Stunning bedroom interiors by Mark Alexander Design Artistry are all an original, multi-layered work of art. Often inspired by the beautiful existing architectural features and characteristics of the client's home. This leads to the creation of stunning, sophisticated and captivating rooms in a range of classic and contemporary styles.
Design Studio 1300 133 326 | 0499 458 033
www.markalexanderdesign.com.au | info@markalexanderdesign.com.au
Formerly Timeless Interiors. Where artistry takes design to a whole new level